La Vía Campesina
The peasant movements of the late twentieth century were triggered by the agricultural crisis of the seventies – the North's dumping of subsidized food on the world market. The organizational impulses came from several sources. Four mobilizations were particularly important.
One was the mobilization of Central American peasants against the IMF's structural adjustment program in the 1980s. Peaceful organization in Honduras, Costa Rica and Panama made a big impression against the backdrop of civil wars in neighboring countries, and the new organizations were able to use generous aid money to organize networks with farmers' organizations in Central America, the United States and Europe. In connection with the upsurge of the Native movement around 1990, new networks were formed across Latin America – in countries such as Ecuador and Bolivia, small farmers and Indians are almost synonymous.
Another was a number of North American family farmers' organizations that began to organize international opposition to food transnational corporations and in 1983 convened the First International Agricultural Crisis Summit in Ottawa in 1983. Later, in other organizations, opposition focused on NAFTA, the North American Free Trade Agreement.
A third was the European opposition to free trade in agricultural products, registered in the GATT Uruguay Round in 1986. It was this mobilization that was the first to organize large demonstrations at a global trade summit, in Brussels in 1990. Leading was the strong organization of French small farmers. This mobilization also sought contacts globally and gained global participation in its demonstrations.
A fourth was the Karnataka farmers' organization's campaign against "intellectual property rights", i.e against patent rights on seeds, which manifested itself both in the destruction of food business property and in a successful political debate at the global level.
These mobilizations, and others, found a common ground in the early 1990s, thanks to the Washington Consensus codification efforts in pro-WTO trade agreements. In 1993, Vía Campesina was formed as a global smallholder organization coordinated from an office in Tegucigalpa with two employees and with a joint program for farmers in central and peripheral countries. About fifty trade unions from America, Europe and South Asia participate, with African organizations entering after 2000. The smallholder movement in Chiapas has also been more loosely connected, although it has contributed much of the organizing language within the family.
Vía Campesina has played prominent roles both publicly and behind the scenes in connection with all the major summit protests since then, and has also helped shape the Southern WTO program that cracked the proposal for a global trade agreement in 2003. A close cooperation betwen Vía Campesina and largely middle-class based movements for protecting the commons was established under the name Peoples' Global Action 1998, remarkably by relying exclusively on popular movement organization, with the explicit exclusion of NGOs.
All indications are that smallholder mobilization will continue. Because capital has invested so heavily in genetic food manipulation as one of the foundations of the next boom, farmers' mobilization is both sensitive to the world market system and necessary to farmers, much like the corresponding threat to Europe's artisans in the early nineteenth century gave rise to the labour movement tradition.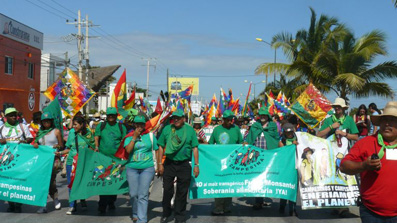 Reading
Marc Edelman: Transnational peasant and farmer movements and networks, ur Global Civil Society: Yearbook 2003
Annette Aurélie Desmarais: La Vía Campesina, Pluto Press 2007.
Link
La Vía Campesina