Environment Forum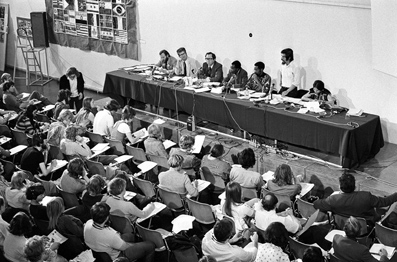 The Swedish government had taken the initiative for its own "alternative" conference Environment Forum, which was held in Konstfack's premises on Valhallavägen. Many researchers and activists and others chose to present their messages both at Folkets Forum and Environment Forum. Stockholm was marked these weeks by the global issues of the future.
From the beginning, Environment Forum was intended to be a meeting place for specially invited organizations, or what in UN language is called NGOs. However, it turned out that these, like the invited experts, had a marked bias towards the established developed countries. Criticism of this was voiced by the Oi Committee as well as the Swedish Youth Organizations' National Council and the Swedish UN Committee, and the invitation list was broadened at the last minute.
One result of this was that the focus shifted sharply – from being dominated by Northern organizations that felt that the big problem was that the poor multiplied too much, to being dominated by Southern organizations that felt that the rich consumed too much.
This was dramatically illustrated when a group from the south to the dismay of the American delegates publicly protested against the northern predominance during Friday's debate and got a program change.
Here is both the imagined and the reality-implemented program arm.
Oddly enough, this government forum was behind this newspaper, which was published in one issue every day of the conference.